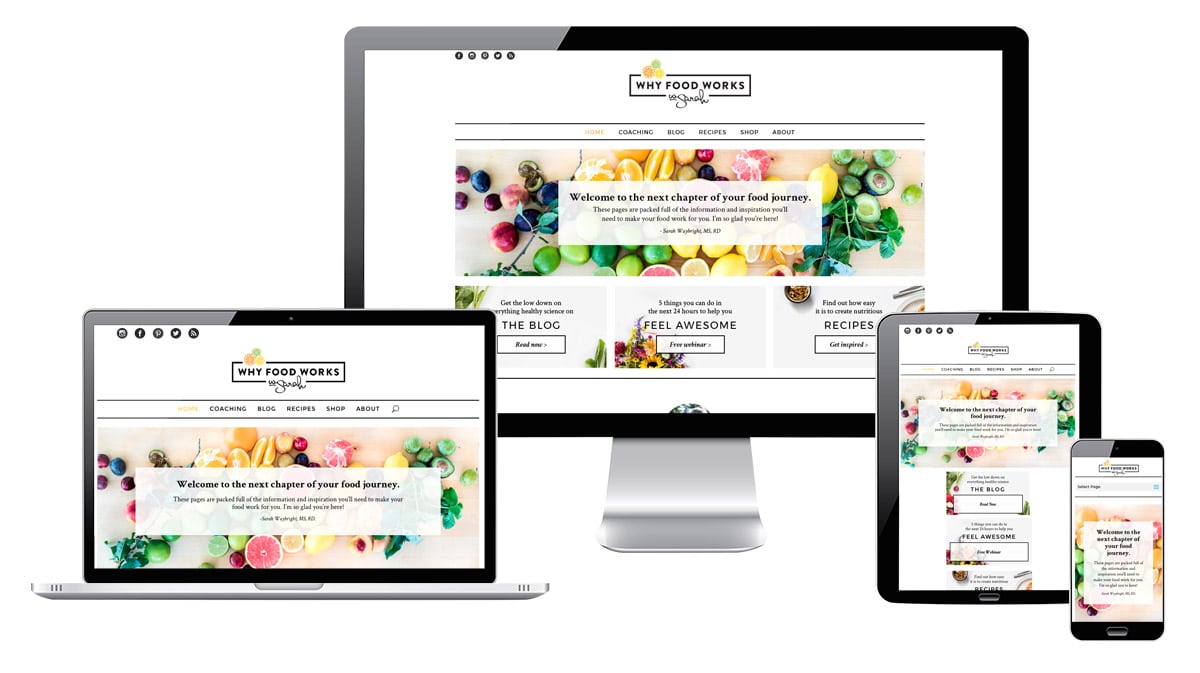 Meet Sarah. She is a registered dietitian, farmer, foodie and all around great person! She is also the founder of Why Food Works. Recently Sarah embarked upon re-vitalizing and redesigning her website.
I had the good fortune to be invited by Sarah to develop her website in conjunction with her current designer Bec (who was fantastic to work with!). The resulting website is a visually compelling corner of the Internet and one that I am very proud to have built!
Head on over to www.whyfoodworks.com to see her new website in action (also – printout the recipe for the Cranberry Walnut breakfast bars – your welcome in advance!)
Sarah was fantastic to work with and collaborating with her and Bec was a real pleasure. We know big things are in store for Sarah and Why Food Works in the near future!
About The Website
The website is built on the WordPress platform which offers several advantages, including ease of use for the owner (point, click, type, publish!) and scalability for all the great website content that is to come in the future!
The website also has an eCommerce store built on WooCommerce (she makes great stoneware also!!), MailChimp integration and customized functionality with a recipe selector that can be set to sort for cuisine, ingredients or meal-type!
As with all of our new website projects, her new website is fully responsive, meaning that the website looks great no matter what device you view it on!
Are You Ready For A New Website?
Whether you are looking to spruce up your existing site, completely redesign you website or get your very first website – we can help! At 21st Century Web Design we are committed to making your web presence the very best it can be! Besides web design we also have cutting edge marketing techniques to make sure your website is working just as hard as you are!
Call us at 321-723-6945 or download our price guide today!
21st Century Web Design
(321) 723-6945
www.21stcenturywebdesign.com
Hours: Monday - Friday 9:00 am - 5:00 pm
$-$$$